Tactical Portable Internet
The Internet has fast become a breeding ground for terrorists, criminals and other unwanted elements of society. In such a scenario it has become imperative to be in a position to intercept and monitor Internet communication for suspect IP's.

A Tactical Internet Interception and E-Mail Tracking system is a portable system which is deployed at the ISP layer to achieve exactly that.
Architecture at the ISP Layer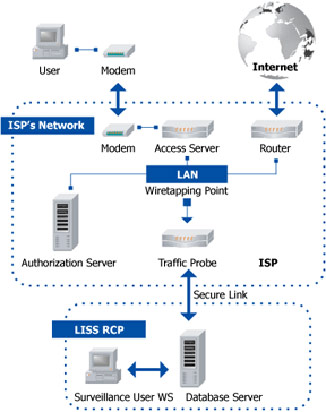 Features
Track –
All E-Mails
All Chat conversations
VOIP conversations
Blogs, Forums, Internet Browsing
Web Mails including pop and IMAP protocols
Video streaming and chats
The tracking is done on the basis of –
Mail ID to which mail is sent / Mail ID from which mail is received
IP Addresses
Keyword content
Landline Numbers of suspects
Connection to domain Names
Advantages
Intercept and monitor the Internet communications between suspects
Completely indigenous portable solution which can be moved from one ISP to the other
Analyze Data flowing at 10 G/sec with less than 2% packet loss
Deep Packet Inspection
Inbuilt User privileges and escalation
Scalable architecture and Infrastructure
2nd Generation Interception Systems
Keep a track of all mails coming to the state in a particular time frame
Keep a track of all mails going out from the state in a particular time frame
Keep track of all mails from suspect IP's
Monitor all FTP connections
For more information on how we can assist you please fill this form.
*
Indicates a required field
Product Form